Welcome back to a new term! I hope you all had a wonderful Christmas with friends and family and had a fabulous new Year!
Have a look at our topic web for the objectives we will be working towards across the curriculum. Our topic this half term is VIKINGS! We will be focusing on dragons in the first half of term and Vikings in the second half. We look forward to a visit from a real Viking too! In literacy we will be writing poetry , writing information texts about Dragon species, writing some Viking narrative based on viking mythology and starting to look at persuasive writing. In maths we will be building on previous learning and learning new methods of the 4 operations within the context of Vikings and in science we will look at materials, animals and their habitats and plants. We will also be exploring Vikings and Drgaons in our non-core subjects: Art, music and the humanities.
Reading at Home
The expectation continues to be that all children read at home every day and a note about this will be added to your child's Home School Diary. Little and often really is the key to excellent progress in reading. All children who read at least 5 times a week will be entered into the class book raffle to win a brand new book! 
Check out these recommended reads- great books to finish before KS2!
Maths at Home
This year we will also be continuing to provide a half-termly Maths booklet called 'Off by Heart' containing advice on how you can support your child's progress in Maths at home. Please practice these skills for up to 5 minutes a day and add a short comment to the diary along side your reading comments.
SMSC, Collective Worship, British Values and Behaviour
Aim – To ensure all children have a sense of what it means to believe and the ability to build positive relationships through tolerance and compassion.
This term we are focusing on 'Believing' from our school values and linking this with the British Value – Tolerance and a core value of Compassion. This will be delivered through whole school assemblies, daily class collective worship and PSHE lessons using the SEAL unit New beginnings, via whole class and small group work where necessary.
British Values- Our Values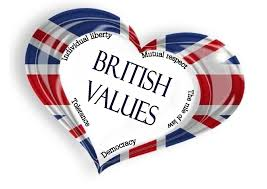 The government set out its definition of British values in the 2011 Prevent Strategy. According to this, the five key British Values are: Democracy, The rule of law, Individual liberty, Mutual respect and Tolerance of those of different faiths and beliefs. We will be promoting these values throughout the curriculum this term as well as finding real life examples of Values in Action day to day.
Home Learning 
Please continue to practice your maths games at home. I would love to know how you are getting on with them so do record any practice in your contact diaries!
We will have weekly home learning this term too. This will be set on a half term grid. You and your child can choose any of the challenges to do each week. The homework must be handed in by Thursday and then you will get your books back on a Friday. I will also stick in a copy of your child's personalised spelling list. Please practise these words whenever you can!
Student Teacher
This term we are lucky enough to be joined by Mrs Sisto in our class. Mrs Sisto is on the Schools Direct programme and is will us for this first half of term. She spent a week with the class before half term so has already started to get to know your children and I know she is really excited to be here! 
General reminders
There is an open-door policy from 8.30 am however it is essential that children are ready to come to the carpet for the register at 8.50am prompt for a smooth start to the school day. Full school uniform must be worn at all times, including black shoes. Long hair must be tied back and no hair products please. Children will be offered fresh fruit at break time but can bring in an alternative healthy snack or money for toast as an alternative. Please also ensure that your child has a school water bottle in school every day. 
PE
PE will be on Thursdays and swimming on Fridays, so ensure that your child has their kit in school. On Thursdays this term your child will be doing Tag Rugby and Netball. 
PE kits should include: well-fitting trainers, black shorts, black tracksuit trousers, a spare white shirt and a clean pair of socks.  In winter is also really important that children stay warm in PE wearing underlays, hats, gloves and a light waterproof coat where possible. A plastic bag kept inside the PE bag is always useful too, for muddy trainers. Swimming kits should include: a swimming costume or tight swimming trunks, a towel, goggles and swimming hats for children with long hair.

Remember, if you need to contact me at any point in the term, please drop in and see me at the end of the school day, send me an email at a.challacombe@swsf.org or contact me through the home school diary. 
Here's to an enjoyable, fun filled and exciting Autumn Term!
Miss Chall